Valentines to My Ancestors is a submission-based qti/poc collection of  messages-in-a-bottle (read: written and visual messages of love) to our ancestors, elders, roots, where we've come from.
By channeling our love in a non-romantic way, we are flipping the script through reconnecting & strengthening those bonds as opposed to fleeting commercial holiday photo-ops.
WHO THIS IS FOR
This project is for peoples interested in decolonizing our cultural practices by strengthening ties with their roots. Indigenous peoples who are interested in uncovering or preserving their heritage that has been lost to capitalism. People who are tired of the same ol corporate holiday candies-and-chocolate mess and want to do something a bit more personal (and yet at the same time… universal!).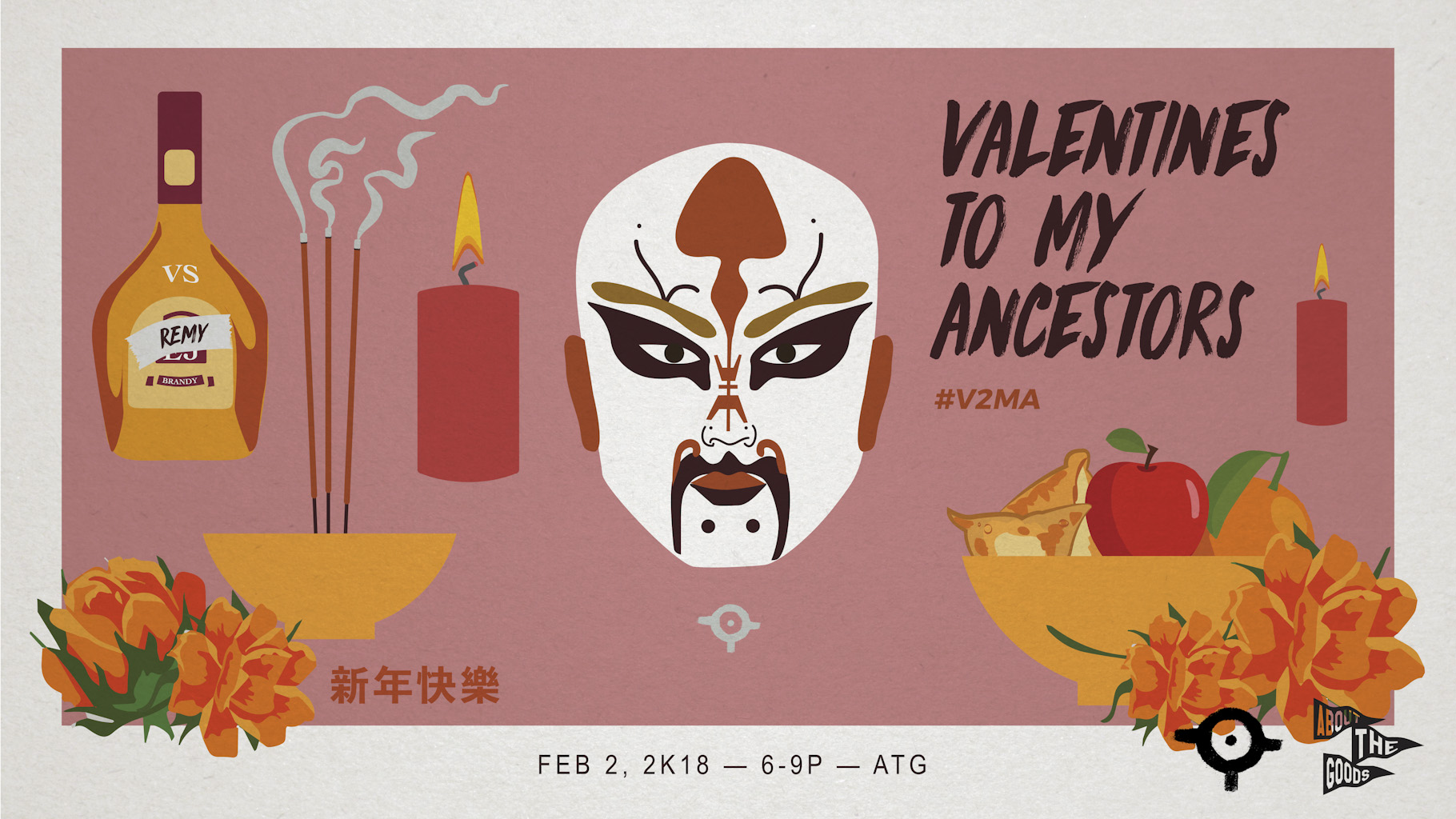 Join me for the V2MA Launch Party 2/2/18 @ ATG in HNL
#ChineseNewYear Celebration includes Year of the Dog in-store lion dance
#FLIP THE SCRIPT #decolonize #ValentinesDay! All valentines can be added to an ongoing collection of QTI/POC loving on our roots.Add your message to the bottle !
#FREE CRAFTS Make your own valentine to an ancestor!
#BYOF

 

Community Alter!


bringyourownflowers
bringyourownfotos
Bringyourownfam

Bring some stuff for the alter as we invite our ancestors to join

 

us for some loving & celebratioN (think flowers, candles, photos)

♥♥♥

Feb 2nd 2018
6-9pm
About The Goods
关于商品
1145 Bethel Street
Honolulu, HI 96813

恭喜發財
新年快樂

♥♥♥
"When an elder dies, a library burns down…"
— When my grandfather passed away, I was filled with deep sadness; not only at his life cycle coming to a close, but at the idea that I would never fully know his story, OUR story… how we got here, how he felt about not being able to even talk to his grandchildren because we spoke different languages, what it felt like for him to escape Japanese occupation…. There's so much I want to ask him, and now I'm left to unroot our family's history by piecing together fragments of the picture by way of historical accounts, books about other peoples experiences, whatever bits & pieces family members remember or were told. 
While this is how my story has unfolded, I know there are countless others who have been blessed with the opportunity to get to know their elders and their history before it was too late. And still others, who will never get to know. We all have a different relationship with our roots and our history, but one thing is for sure: whatever our story, it is important, and worth documenting! This is an open invitation to say whatever, to whoever, about whatever in a way that feels healing for YOU. 
This is a safe space to reach out to loved ones or distant relatives in order to say what you need to. 
Want to add your message to the bottle?